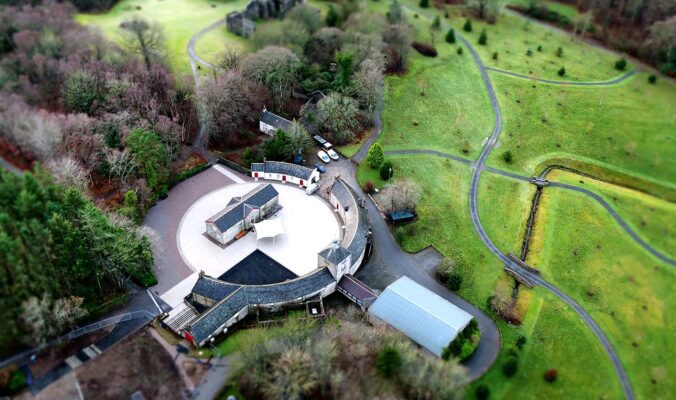 Aden Country Park design opportunities to bring Park heritage to life
Following the successful £1.25m Aberdeenshire Council funding applications to the National Lottery Heritage Fund (NLHF) Parks for People programme, a £2.13m Restoration and Redevelopment project is being delivered in Aden Country Park. As part of this project Aberdeenshire Council is now inviting interest for the Graphic Design Specialist & Website Design/Developer opportunities advertised through Public Contracts Scotland (PCS).
The main purpose of the Graphic Design Specialist is to undertake a range of interpretive graphic design work including branding, a3D map, the development of park signage, interpretation centregraphics, leaflets, and an engaging education pack
Separately a Website Design/Developer opportunity has also been advertised todesignand developa new Aden Country Park website which is visually appealing, inclusive, increases knowledge and understanding of Aden's heritage, and promotes the parks facilities, events, education resources and volunteer opportunities
Both opportunities are currently being advertised on Public Contracts Scotland with a deadline for responses at 9am on Monday 18th April 2022.
Following evaluation, and the successful bidder being identified, the design work will look to both attract new audiences, as wellas repeat visitors to the much-loved country park, often referred to as the "Jewel in the Buchan Crown".
The completed design and development work willnot only look to increaseinterest and visitor numbers to Aden Country Park, but it will also providea fascinating insight in the parks built, natural, cultural, and archaeologicalheritage of the park,which will engage international, national, and local audiences in an interactive way.
Other work which has or is currently being undertaken as part of the Aden Restoration and Redevelopment Project include:the conservation of Aden's designed landscape; the development of a new multi-generational play park; upgrading of the arrival courtyard, enhancing and actively promoting access for disabled users; the restoration of the Mill Pond and Lake; the uncovering, recording, and interpretation of significant archaeological sites; new viewing platforms, outdoor learning classrooms and pond dipping area; the development of learning programmes and educational resources; conservation and stabilisation of key heritage features; improvements to the path network to establish wider circulatory routes; and enhancements to biodiversity.