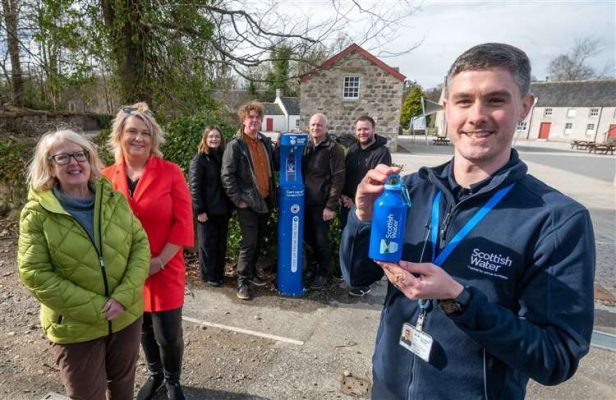 Residents and visitors to several Aberdeenshire beauty spots will be able to quench their thirst on-the-go thanks to a trio of newly-launched Top-Up Taps.
Scottish Water's network of Top-Up Taps provides free, world-class drinking water at over 85 high-footfall community sites across the country, with the latest sites completed in Aberdeenshire located at Aden Country Park, Cruden Bay's Harbour Street, and Fraserburgh beach.
The taps were officially launched this week and welcomed by locals including representatives from community councils and Aberdeenshire Council.
With 76 per cent of Scots carrying a refillable water bottle while they're out and about, the taps are in demand and help people reduce their use of single-use plastic bottles.
So far, Scottish Water's Top-Up Taps have dispensed the volume of more than 3.5 million bottles of tap water.
Scottish Water's Corporate Affairs Officer, Sam Simpson, is a member of the team delivering Top-Up Taps across Scotland.
He said: "It's heartening to see the response from communities as they welcome Top-Up Tap installations. Not only are they serving as great meeting spots for groups enjoying social and leisure time outdoors, it's a great money-saving option as people can stay hydrated for free."
Chair of Aberdeenshire Council's Buchan Area Committee, Dianne Beagrie, said: "The addition of these very convenient top-up taps in our communities courtesy of Scottish Water will enable residents and visitors alike to carry a refillable bottle with them when enjoying our wonderful villages and towns, countryside and coastline and help them to do their bit for the environment.
"From a health perspective, these free refill points will also encourage us all to drink more water when we're out and about, and I would encourage people to keep an eye out for them and stay hydrated!"
Chair of Cruden Community Council, John Ross, said: "This water tap is something that Cruden Bay Community Association has been trying to fulfil for a few years.
"A lot of our community use the beach on a daily basis, all through the year.
"This tap will mean that people can fill up their water bottles before and after walking or exercising on the beach. "This will also be useful to the many dog walkers that use Cruden Bay beach, as it will mean that their dogs have a readily available water source to refresh their pets after a brisk beach walk.
"Also this tap will be a boon to the countless visitors that use the beach – it's bright, bold and at the best access point to the beach. Cruden Bay Community Association would like to thank Scottish Water and Aberdeenshire Council for all their assistance in purchasing and installing the tap at Ladies Bridge."
Press release by David Porter for Grampian online.