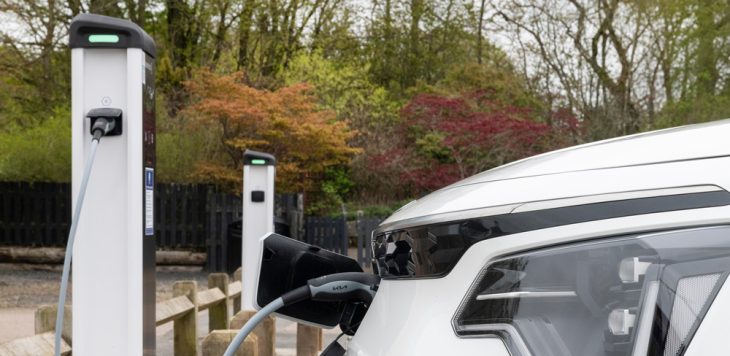 Electric vehicle owners can now charge their cars while they enjoy a leisurely walk and take in the attractions at Aden Country Park.
Four dual electrical vehicle charging points have recently been installed aimed at promoting and encouraging low-carbon sustainable transport options.
It forms part of the Accessible Aden Project which has seen a raft of improvements following a review of existing infrastructure at the north-east attraction.
The new system comprises two fast 22kW chargers and two standard 7kW chargers providing a total of eight charging points.
It is estimated that the fast chargers can recharge a car fully in around three hours, with the standard chargers taking around six hours. Each charging unit has a socket on each side and can charge two vehicles at once. When two vehicles charge, units will de-rate to a supply of 11kW to each side for the 22kW chargers, and 3.5kW to each side for the 7kW chargers.
To use the Aden EV chargers, motorists can either become a member of ChargePlace Scotland or can simply call the operator or download the ChargePlace Scotland mobile phone app.
In line with the current Aberdeenshire Council electric vehicle charging tariffs, the standard rate will be £0.47 per kW hour, with a reduced rate of £0.27 per kW hour available for overnight charging between 8pm and 8am on 7kW standard and 22kW fast chargers.
The introduction of electric vehicle chargers in Aden Country Park came in response to community consultation and significant funding support from the VisitScotland Rural Tourism Infrastructure Fund (RTIF).
The Accessible Aden Project has not only helped to support the introduction of EV chargers in Aden, but also car park and electrical infrastructure upgrades, along with the installation of bike stands and construction of a fully accessible Changing Places toilet block in the park.
Central Buchan councillor and vice-chair of the Buchan Area Committee, Anne Simpson, said: "I am delighted to see the electric vehicle charging points installed at Aden Country Park and I am confident this become a well-used facility for many of our visitors who have made the transition to electric cars.
"Combined with the improved facilities including the excellent new toilet provision, this latest addition to the park's amenities will ensure Aden continues to be a fantastic attraction for individuals and families alike, a place for play or exercise, a venue for respite, or simply a resource which allows people to easily engage with heritage, nature and wildlife."
Aden Project Co-ordinator Neil Shirran added: "There had been mounting pressure on Aden's existing facilities over the last few years which was exacerbated throughout the Covid pandemic. Community consultation helped us to identify the need for electric vehicle charging points, along with improvements needed in toilet and parking facilities. The funding support from VisitScotland Rural Tourism Infrastructure Fund and Aberdeenshire Council itself has made these park improvements possible."
Managed by VisitScotland on behalf of the Scottish Government, the RTIF was created to improve the quality of the visitor experience in rural parts of Scotland which have faced pressure due to increased visitor numbers.
It aims to reduce the impact of visitor numbers on local communities and facilities and create a more collaborative and sustainable approach to infrastructure provision and long-term maintenance of local facilities for the benefit of communities.
David Jackson, VisitScotland Regional Director, said: "The Rural Tourism Infrastructure Fund (RTIF) can make a real difference at locations like Aden Country Park. We would hope the development of new Electric Vehicle Charge Points will encourage more people to consider using sustainable transport.
"These additional facilities continue to improve the experience for visitors and help alleviate pressure on infrastructure, to ensure this scenic area remains a popular place to visit for years to come. Tourism is a force for good and sustains communities in every corner of Scotland, creates jobs and can improve wellbeing. We all need to play our part in being responsible visitors and RTIF projects such as this will help ensure our visitor destinations remain sustainable for years to come."
To-date, the Rural Tourism Infrastructure Fund has awarded £15 million of grant funding to 66 projects across rural Scotland since the start of the Fund in 2018.
For more information on RTIF, please visit https://www.visitscotland.org/supporting-your-business/funding/rural-tourism-infrastructure-fund
For further information on the Aden EV Chargers please visit our EV Charging Points section of the website